October nights will be full of celestial treats to see with binoculars and telescopes. Here are some of our top October stargazing suggestions:
October Deep Sky Treats - In early October, catch your last glimpse of the year of the galactic center in the constellation Sagittarius, low in the southwestern sky, where you can track down four great emission nebulas - M8, the Lagoon; M20, the Trifid; M17 the Omega; and M16, the Eagle or "Star Queen" nebulas.
Two great planetary nebulas are still well-placed in October skies - M57, the Ring Nebula; and M27, the Dumbbell Nebula.
Look for interesting galaxy NGC 7331 in the northwestern section of the constellation Pegasus. With a 12" or larger aperture [telescope] and good seeing conditions, you may be able to tease out the galaxy's faint spiral arms.
Best Chance to See Distant Uranus - On October 11th, planet Uranus will be at opposition (meaning the Earth will be positioned between Uranus and the Sun along a roughly straight line). This is when Uranus will be in its orbit's nearest point to Earth. Grab a pair of binoculars or a telescope and a star chart or StarSeek app to track down this magnitude 6.5 planet, which is just below naked-eye visibility, in the constellation Pisces. While sighting the ice giant planet can be a challenge, it's still worth the effort to know you're looking at one of the most distant planets in our Solar System.
Time to (Star) Party! - The weekend of October 10th and 11th is a great opportunity to get out to a dark sky site with friends and family to enjoy spectacular sights and inky-black skies. The New Moon of October 12th makes the previous weekend the darkest of the month, so it's the best time to see objects beyond our solar system, and to get great views of planets too.
Planetary Pairing Before Sunrise - In the very early morning hours of October 17, bright planets Jupiter and Mars will appear to pass within 0°22' of each other in a close conjunction. Set an alarm and look for this pretty pair just above the eastern horizon starting approximately 3 hours before sunrise. Bright planet Venus looms about 7° above right of the pair.
Orionid Meteors in the Sky - Bright Venus, giant Jupiter and the red planet Mars will form an approximately one-degree triangle in the very early morning sky of October 28th. Look for this rare three-planet grouping low on the eastern horizon before dawn. (The trio are tightly clustered for several nights before the 28th and for a couple of nights after as well.) Don't forget your camera - this tight planetary triplet will make a great photo opportunity!
Rare Three-Planet Grouping - If you liked sparkling M52, you'll love the popular favorite "Double Cluster in Perseus." Lying between constellations Cassiopeia and Perseus is a bright, fuzzy spot in the Milky Way, and a [binocular] or [telescope] will reveal two, bright open star clusters close to one another. In early September the "Double Cluster" appears low in northeastern skies around 9 PM, but it becomes a real showpiece later in the evening as it climbs higher in the sky.
Challenge Object: NGC 404 - Use your StarSeek app or a star chart to track down star Beta Andromeda in the constellation Andromeda. Carefully inspect the area just northwest of the star to see the faint glow of galaxy NGC 404, a small 11th magnitude dwarf galaxy that's approximately 10 million light years away from Earth. You'll likely need a 6" or larger [telescope] at high power, but can you see it in a smaller telescope?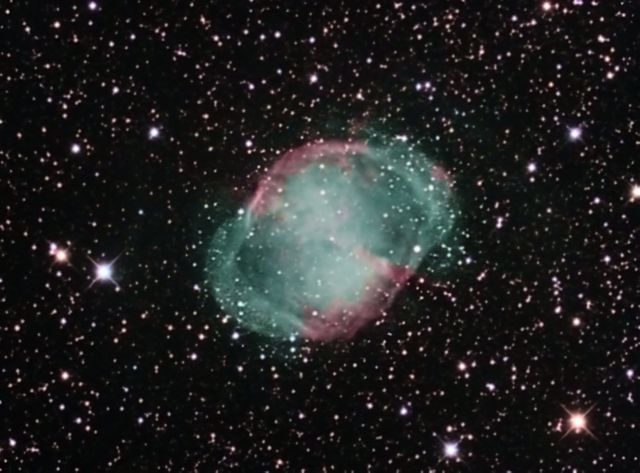 Messier 27, the Dumbbell Nebula by Pat Meloy
All objects described above can easily be seen with the suggested equipment from a dark sky site, a viewing location some distance away from city lights where light pollution and when bright moonlight does not overpower the stars.